LEARN HOW TO USE YOUR HANDS AND WHEN NOT TO
A 15 h HANDS ON ADJUSTMENTS COURSE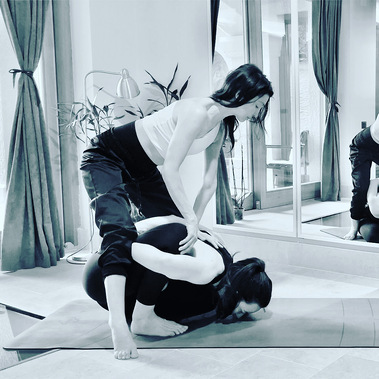 This long Masterclass suited for both teachers and students, is being brought back to you at the public's request. The April edition was an absolute success for the participants, who got the grasp of some of the ways to "trick" the bodies and most importantly, they've learnt to read how our bodies "trick" ourselves.
It is a job that even the most experienced teachers still by the day, and that's one of the most fascinating aspects of it; so, learning "a little bit" is actually, a lot in the big scheme of things.
WHAT:
During this 1 weekend course you will be given a basic set of "cheat codes" for opening and deepening a number of poses which come in handy in either your personal practice or when working with your regular students. We demystify the mechanics of poses such as Paschimottanasana, Marichyasana, Upavistha Konasana, Urdhva Dhanurasana and many more in an effort to make you more comfortable with either giving or receiving these kind of hands on adjustments.
WHY:
This Masterclass is addressed to any Yoga student or teacher curious about deepening their level of understanding regarding the complex mechanics of a pose, body limitations and how to overcome them by using verbal or hands on adjustments or anyone curious about how pair work in certain adjustments.
- Why we adjust and receive adjustments
- Different categories of adjustments there are and when to use each one;
- Benefits
- Do's and Don't's
- Different approaches depending on the student's/ teacher's body proportions
- Finding the right intensity
- Pair work: we look at poses where the teacher and the student work together and what are the benefits on both sides (e.g. in poses such as Upavistha Konasana or Supta Vajrasana)
- Adjusting techniques for 20+ poses
- Practical adjusting classes so you can literally get a firm grasp of this important teaching tool
DATES, DATES AND TIMES:
14, 15, 16 OCT 2022
Five hours of this course consist of applying the newly learnt skills in real life classes.
Friday, Oct 14th: 18:30 - 20:00
Saturday, Oct 15th: 12:30 – 17:00
Sunday April 16th: 12:30 – 16:30.
COST:
200 Eu
DISCOUNT:
- 30 % discount for those who participated at the first edition
- 50 % discount when purchased with any of the other 3 courses